2023 SEASON
2023 SPRING CONCERT
2022 SEASON
2022 WINTER CONCERT
Gloria!
Gloria in Excelsis Deo (by Vivaldi & J.S. Bach) & All About Jesus

Conductors: So Yun Kang & Chung Uk Lee

Soprano: Sunmi Shin
Soprano: Woo Young Kim
Alto: Jane Shim
Tenor: Dongwhi Baek

Saturday, December 10, 2022, 7 p.m.
First United Methodist Church of Glendale
134 North Kenwood Street, Glendale, California 91206
2021 SEASON
2021 WINTER CONCERT
Handel's Messiah, pt I Bach's Lobet den Hernn + carols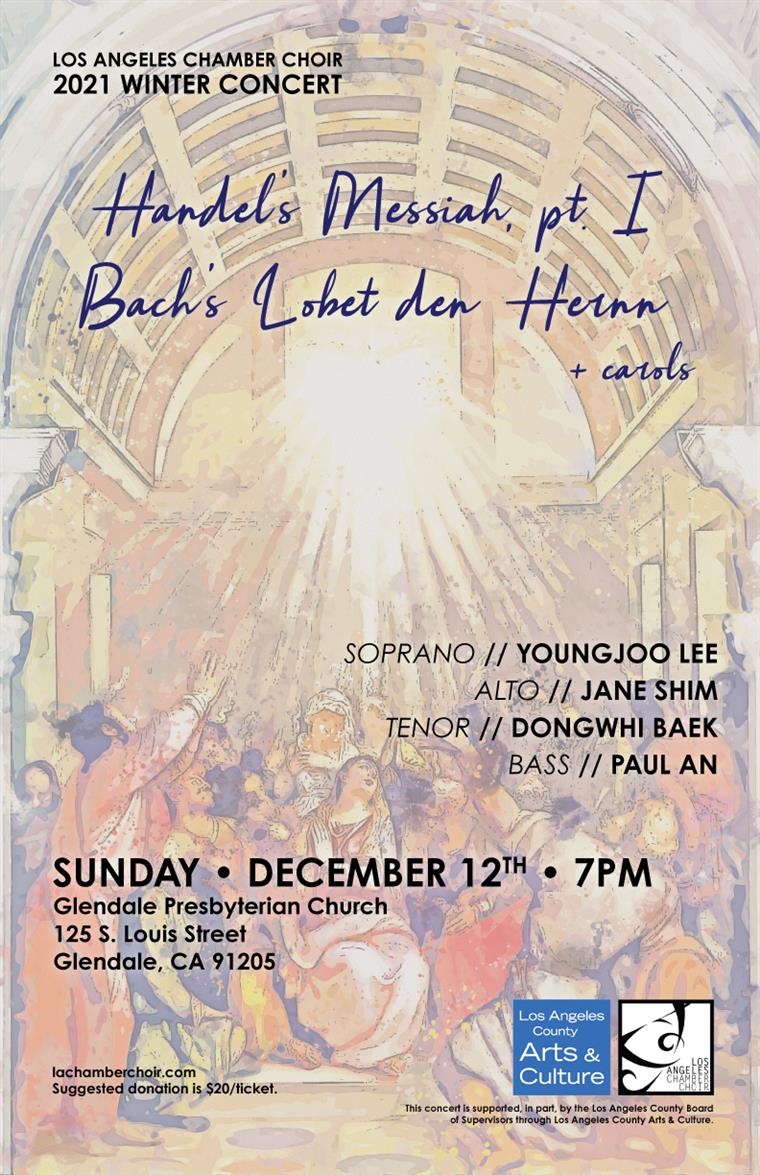 2019 SEASON
2019 SUMMER CONCERT
2019 SPRING CONCERT
The Los Angeles Chamber Choir is performing its first concert of the year 2019 in collaboration with Ensoma Creative, a semi-professional community choir with very talented and young members led by conductor Townsend Losey. We will be performing Handel's Dixit Dominus, setting of the text from Psalm 110, followed by JS Bach's Magnificat, from Luke 1:46-55.
2018 SEASON
2018 SUMMER CONCERT
2018 SPRING CONCERT
Los Angeles Chamber Choir kicks off its 2018 season with a very special concert. We have recently lost a long time member and dear friend Moon Young Lee to a cancer. LACC will dedicate this concert to his memory. Moon was not only an intricate part of our choir, he was a model of dedication and goodwill. He brought comfort and sense of serenity to those around him. LACC will honor his life with J.S. Bach's Cantata No. 4 and Jesu meine Freude, followed by a very special performance of Gabriel Faure's Requiem. Please join us for this very, very special night on March 24.
2017 SEASON
2017 WINTER CONCERT
2017 SUMMER CONCERT
After Bach's St. John's Passion in April, Los Angeles Chamber Choir comes back in just 4 months to present a very different concert in Orange County. This is the choir's first official visit to Orange County, and it is very excited and honored to present various choral works in order to benefit the Korean American Special Education Center. We encourage you to come out to St. Thomas Korean Catholic Church on Sunday, August 6 to support us in this enriching and worthy concert to benefit those who help children with special education needs.
THE PASSION ACCORDING TO ST. JOHN
Los Angeles Chamber Choir begins the 2017 season with J.S. Bach's Johannes-Passion. On April 2nd, Los Angeles Chamber Choir will perform The Passion According to St. John. Please join us for the beginning of what should be another great year for Los Angeles Chamber Choir. The concert will begin promptly at 7:30 in the evening on Sunday, April 2nd at The First Congregational Church of Los Angeles. For ticket information, please contact us.
2016 SEASON
2016 SUMMER CONCERT
PREVIOUS CONCERTS
2015 Summer Concert at Walt Disney Concert Hall!!
Celebrating the choir's 10th Anniversary!!
Los Angeles Chamber Choir performed its 2015 Summer Concert with the help from Los Angeles County Arts Commission. Los Angeles Chamber Choir, along with California Children's Choir (CCC) presented two impressive stages; starting with Haydn's Missa in tempore belli (Mass in time of war) and ending with Ralph Vaughan Williams' Dona nobis pacem. This concert was especially meaningful not just because the choir was celebrating its 10th annivesary, but also because the theme was centered on war and peace. The choir wishes to thank everyone who attended the concert, as well as those who supported the choir through the 10 years of its existence.
2015 Spring Concert
Los Angeles Chamber Choir with Los Angeles Master Chorale
Los Angeles Chamber Choir was invited by the esteemed Los Angeles Master Chorale to jointly perform the world premier of distinguished Korean composer Nack Kum Paik's "Succession" on Sunday, March 8th, 2015 at the Walt Disney Concert Hall. Nak Kum Paik's "Succession" was indeed a truly masterful composition that featured 3 choirs. "Succession" also featured Los Angeles Chamber Choir's two soloists, Chunk Uk Lee and Sunmi Shin. Both soloists have brought the entire audience to its feet and even tears to some. It was truly, truly a collaboration worth cherishing for a long time to come.
2014 Summer Concert at Walt Disney Concert Hall
The Los Angeles Chamber Choir presented Mozart's Vesperae & Requiem, as well as Ave verum corpus at its 2014 summer concert. The Walt Disney Concert Hall was filled with Mozart's brilliance, and those in attendance enjoyed truly remarkable night of sacred choral music.
2013 Winter Concert
2013 Summer Concert at Walt Disney Concert Hall
The 2013Summer Concert at Walt Disney Concert Hall was a smashing success! The concert brought close to 2,000 people, who experienced the truly magnificent performances by the choir, the orchestra, and the soloists. It was indeed a spiritually enriching experience we won't soon forget.
2012 Winter Concert
Los Angeles Chamber Choir held its 2012 Winter Concert Mozart's "Requiem" & "Mass in C Minor"
2011 Summer Concert Tour
The summer of 2011 brought out the favorites of Los Angeles Chamber Choir. In three separate occassions, Los Angeles Choir performed many of its finest pieces over the years.
2010 Winter Concert. Mass in b Minor
Los Angeles Chamber Choir performed Mass in b Minor by J.S. Bach. As one notable philosopher once said, "Just listening to it carries me nearer to God," we believe this presentation has shorten the bridge between our audience and God.
2010 Spring Concert
What distinguished this concert from our other concerts is that this one presented a unique and undeniable talents of Professor HYUN JOO HWANG as the organist. The 2010 Spring Concert featured Maurice Durufle's Requiem and Ron Nelson's Mass of Saint La Salle, both well known pieces featuring the organ.
2009 Winter Concert
The 2009 Winter Concert was indeed a thing of beauty. Los Aneles Chamber Choir's 2nd performance of Messiah was not only successful musically, but also successful in delivering the story and life of Jesus Christ.
Beethoven's 9th Symphony with Los Angeles Philharmonic
Los Angeles Chamber Choir was extremely honored to have 10 of its members invited to a very special event. The Los Angeles Philharmonic, in an unprecedented move, welcomed maestro Dudamel with an open concert at Hollywood Bowl on October 3, 2009. The highlight of this event was the 9th Symphony, and Los Angeles Philharmonic has invited several community choirs to join the famed Los Angeles Master Chorale. It was truly an amazing once-in-a-lifetime event!
2009 Spring Concert
Our 2009 Spring Concert was held amid growing economic crisis that seems to affect all. Through this concert, we aimed to provide joy and hope through music. We believe we did just that and more!
2008 Winter Concert
For 2008 Winter Concert, Los Angeles Chamber Choir has joined with the famed Choral Alchemy of Los Angeles (CALA), perhaps the finest choir in greater Los Angeles area, to present an unforgettable night of choral performances.
2008 Summer Concert
The 2008 Summer Concert was held amid great expectations from the audience. Fresh off the highly successful Messiah concert, LACC once again delivered a powerful performance covering both old and new Christian choral pieces. The concert began with classical piece from Haydn (Missa brevis Sancti Joannis de Deo) and progressed into more modern pieces. The concert featured various lyrics ranging from English to African dialect.
2007 Winter Concert
2007 Winter Concert marked the start of the metamorphosis of Los Angeles Chamber Choir. It marked the very first time our choir performed a masterpiece. With four of the top soloists and the famous Musica Angelica Baroque Chamber Orchestra, the concert received high marks for the replication of the Baroque style, strictly adhering to the original work by Handel.
2007 Summer Concert
The 2007 Summer Concert was held with very little time to perpare. However, everyone did their best to show our appreciation to the Lord for the opportunity to serve the community. This concert also featured guest performance by the well known Soong-Sil OB Male Chorus.
Dinner Concert
After celebrating the successful first season, Los Angeles Chamber Choir invited selected people as a token of appreciation. The concert was held at Oxford Palace Hotel in Los Angeles. The concert featured excerpts from the first concert, as well as pieces from soon to be held summer concert.
2006 Spring Concert "We are One"
1st Concert by Los Angeles Chamber Choir
Our very first concert was held at the famous Wilshire United Methodist Church in Los Angeles. We had only 20 members then, but the concert was a huge success. Under the them of "We are One," each and every member became one with others in praising the Lord.